Greenville High School
Class Of 1965
In Memory
Wayne Childers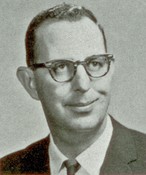 Many of you will remember Mr. Childers, who was the band director at GHS while we were there. Thanks to Bob Booth for this update.
Greenville High School
Class Of 1965
From the PINE BLUFF COMMERCIAL
February 11, 2009
SHERIDAN — Wayne Everett "Bud" Childers of Sheridan, Ark., was born March 28, 1932, at Sheridan, the son of the late Thurman Shaw and Myrtice Vanlandingham Childers.

He was a graduate of Sheridan schools where he was named to all-state football in 1950; graduate of Henderson State Teachers College, now Henderson State University in 1954 with a BME in instrumental music; received his master's of music education from North Texas State, now North Texas University in 1960.

Bud was a director of bands for 40 years. He began his teaching career at Dumas, Ark., teaching high school band and throughout his teaching career, he also taught band at Greenville, Miss., Pine Bluff High School and White Hall High School before retiring in 1994. After retirement, Bud was asked to direct the Pine Bluff Community Band.

He was a charter member of First Landmark Baptist Church in Sheridan and later became a member of First Baptist Church of Pine Bluff.

In addition to his parents, he was also preceded in death by his sister, Frances Jo Bratton.

Survivors include his wife of 54 years, Bobbie Baynham Childers of Sheridan. They were married June 6, 1954. Other survivors are his son, Wayne E. Childers Jr. and wife Joanne of New Hope, Pa.; daughter, Melody Childers Rainwater and husband, John of Sheridan; three grandchildren, Faith Childers, Alina Childers and David Rainwater; two step-grandchildren, Shawn Simmonds and Lianna Simmonds.