Greenville High School
Class Of 1965
In Memory
Scott Ingalls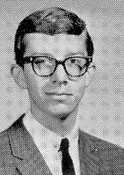 From THE CLARION-LEDGER
September 16, 2009
The Most Reverend Scott Edward Ingalls, 62, passed away at his home, Sunday, September 13, 2009, after a brief illness.
Bishop Scott was ordained into the Catholic-Anglican Church and had recently transferred to OCC. He also had his own business as an advertising broker. He was preceded in death by his parents, Edward Ingalls and Charlotte Ingalls.
He is survived by his fiancee, Laurie Jennings Browning and by his four-legged companions, Molly, Woody, and Belle.