Greenville High School
Class Of 1965
In Memory
Josie Winn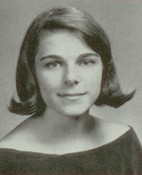 From THE TIMES PICAYUNE
August 6, 2002
Josie Pattison Winn, age 54, passed away on Sunday, August 4, 2002 at her home in New Orleans, Louisiana after a lengthy illness of cancer. Graveside services will be held on Thursday, August 8, 2002 at 11:00 a.m. at Greenville Cemetery, Greenville, Mississippi.
Ms. Winn was born at the Good Samaritan Hospital in Los Angeles, California on October 9, 1947. She spent her childhood in Greenville, Mississippi. She graduated from Greenville High School, received a BA at Sweet Briar College, a BBA at The University Of Mississippi, and attended The University of Mississippi Law School until her illness in 1985. In recent years, she has been active with The American Cancer Society Chapter in New Orleans.
Survivors include her parents, Dr. and Mrs. Eustace Harold Winn, Jr. of Greenville, Misssissippi, her brother Dr. Hal Winn of Greenville, Mississippi, and three sisters, Barry Winn Foster of New Orleans, Louisiana, Beth Winn Joyce of New Orleans, Louisiana and Ginny Winn Kisalus of Houston, Texas.